Consultations offered at our two convenient locations in San Diego and Carlsbad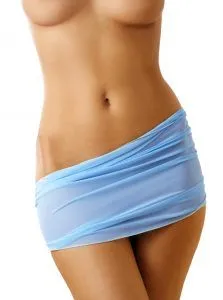 The abdominal midsection is the most difficult part of the body to reduce or sculpt by diet and exercise no matter how healthy your lifestyle or vigorous your efforts.
With extreme diet and exercise, some of your general body fat can respond, but the portion of fat that is lipodystrophy fat, the fat that is very resistant to shrinking, is essentially impossible to reduce or keep off for any length of time. In fact, when normal activity is resumed, it will come back and most times even grows a little more with each attempt.
Dr. Seare has developed a unique procedure that permanently eliminates 90% of the fat in 360°s around the abdominal torso. This includes removal of the lipodystrophy fat circumferentially from patient's flanks, back, and upper and lower abdomen. Additionally, when needed, Dr. Seare removes excess abdominal skin to achieve patient's ideal, curvaceous body contour with tight skin. This cutting-edge procedure is known as the HourGlass® Tummy Tuck, integrates MicroLipo's carefully directed fat removal, along with the skin tightening of a Tummy Tuck, but with a much lower and smaller scar. This creates a complete transformation directed toward achieving an ideal curves , fat removal and skin tightening that is tailored results specifically or each patient.
---
About the HourGlass Tummy Tuck
Dr. William J Seare at Clinique LipoSculpture in Carlsbad, San Diego has many options for removal of this lipodystrophy fat and skin tightening.
These options include not only traditional full tummy tucks, but also a cutting-edge procedure he calls the "HourGlass" Tummy Tuck with aggressive fat removal, reduced recovery time and discomfort, and most times without the need to relocate the belly button.
In the past the Full Tummy Tuck Procedures were the "golden standard" for removing excess abdominal skin and a limited amount of fat in both men and women. However, the Full Tummy Tuck Procedures have rightly gotten a bad reputation for being painful, expensive costing upwards of $10K-$12K, require a long 3 month recovery period, and create a high, long scar with another scar around the belly button. Also lacking in the Full Tummy Tuck is the ability to perform any lipo over the tummy tuck area, only allowing a little fat lipo at the sides, and the procedure always requires general anesthesia and often hospitalization. These limitations of the Full Tummy Tuck must be carefully considered and are very important. With this, in order to get the desired fat removal and skin tightening,patients are required to undergo two separate expensive procedures with scars in less than optimal locations and long recoveries.
---
Benefits of the HourGlass Tummy Tuck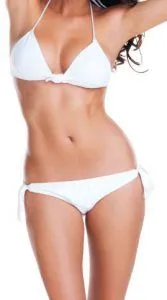 Dr. Seare believes that his Mommy Makeover patients who select lipo and Tummy Tuck procedures desire having the most fat removed that can be safely and evenly accomplished with skin removal where the scar is thin and can be easily hidden. Therefore, he created the HourGlass Tummy Tuck with "Awake Anesthesia" allowing large volume fat removal while strategically tightening the skin all in one surgery. This results in a more reduced and defined midsection, as well as a flatter and tighter stomach, creating a contoured hourglass figure. Ultimately this leads to more pleasing curves, better fit of clothing, and improved self-esteem.
William J Seare MD trained and practiced in Utah for over 25 years.
There he saw a large proportion of his Tummy Tuck candidates, and especially those who were from LDS background with very large families. One patient had 14 living children with an accompanying extreme surgical challenge. Multiple pregnancies, gaining weight, genetics and inactivity all can add to the stimulation of lipodystrophy fat, stretch marks and loose skin. His practice in Utah provided Dr. Seare with hundreds of Full Tummy Tuck candidates who sometimes needed very massive skin tightening and extreme fat removal. But because of the above listed drawbacks to the Full Tummy Tuck, this could only be performed in two procedures with less than optimal results. Dr. William Seare therefore created a new procedure he calls the HourGlass Tummy Tuck that addresses each drawback we discussed with the Full Tummy Tuck procedure.
---
Before & After Photos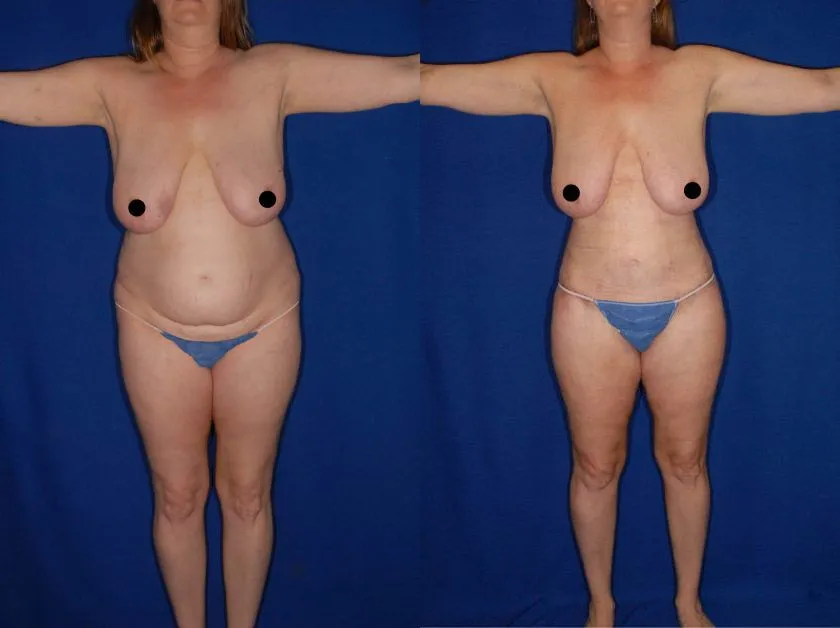 ---
Why is HourGlass Tummy Tuck Different?
This transformation creates a much flatter stomach, removes up to 90% of the unwanted fat, and creates an hourglass contour from the breasts to the hips.
For the HourGlass Tummy Tuck, micro-lipo is performed aggressively and circumferentially around the entire abdominal torso from the bottom of the breasts to the pubis, allowing removal and tightening of the skin much lower in the abdomen with the very thin scar essentially in the bikini line. In California and specifically in Carlsbad, with Dr. Seare's experience and technologies, up to 10 pounds of pure fat can be removed from microlipo and 5-6 more pounds can additionally be removed from the abdominoplasty.
Dr. Seare's HourGlass Tummy Tuck uses the low incision of a mini-tummy tuck and combined with extreme circumferential microlipo where amazing transformations are created more safely with "Awake Anesthesia", at a lower cost, and with a very low, thin scar that adds only about 2 days to the 5 days for the HourGlass MicroLipo® recovery. With these procedures, Dr. Seare takes the time and attention to detail to perform the HourGlass MicroLipo and HourGlass Tummy Tuck procedures to create a much smaller waist, tighter skin resulting in a curvatious figure that is more pleasing to the eye.
Dr. Seare will additionally tighten and repair loose or damaged abdominal muscles in order to restore healthy support of patients' stomachs. The HourGlass Tummy Tuck is an outpatient procedure which can be completed in 3 to 4 hours. Even though an HourGlass Tummy Tuck is a gentler procedure than an average tummy tuck performed with liposuction, patients also have the option to receive their procedure under general anesthesia.
If you are interested in this cutting edge procedure, please contact us today! We look forward to hearing from you and Dr. Seare will be available to talk personally with you. We offer free consultations that take about an hour and Dr. Seare will personally meet with you to create a transformation plan specifically designed for you.
---
Lipodystrophy Fat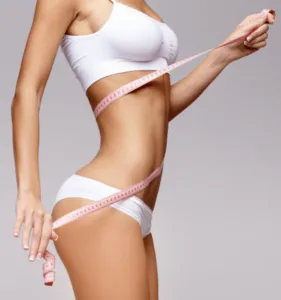 Lipodystrophy fat is a specific genetic type of fat that has been a tremendous selective advantage to mammals including acting as padding, protecting vital organs, and helping them to store energy as fat and use it when resources are limited such as during famines, the ice ages or getting older. This fat is present at birth and generally in early adolescence it gets triggered to grow by various mechanisms.
Some activities such as over eating and under exercising are shared with the general body and cause fat grow. However, things specific to lipodystrophy fat are include the stimulation of fat production when you are under pressure with the secretion of cortisol, the "stress hormone". Some medicines, especially anti-depressants, are known to cause weight gain. Other hormonal changes such as pregnancy and menopause are also weight gain triggers. Certain families have ages where their weight increased dramatically without any other know triggers.
"Experts say that for up to 25% of people, most antidepressant medications — including the popular SSRI (selective serotonin reuptake inhibitor) drugs like Lexapro, Paxil, Prozac, and Zoloft — can cause a weight gain of 10 pounds or more".
---
Candidates
HourGlass Tummy Tuck is an ideal option for patients who gained lipodystrophy fat due to stress, hormones, medication, or simply genetics, are now struggling to lose the weight they have gained. An HourGlass Tummy Tuck is also a good solution for patients who have recently lost a large amount of weight, but have been left with excess skin and are now struggling to lose stubborn fat remaining in their flanks, back, and abdomen.
This procedure is an optimum choice for patients who are experiencing both excess fat and lax skin, as well as those whose abdominal muscles may have been compromised due to the strain of childbirth.
Patients who have healthy skin laxity and only wish to address their stubborn fat deposits may be better candidates for liposuction with Dr. Seare. Dr. Seare is highly trained in a wide variety of liposuction methods and will be able to identify the fat elimination method that is right for you. If you have excess fat and skin, and wish you had a more curvaceous, feminine figure, an HourGlass Tummy Tuck can be the right body contouring solution for you.
If you are a non-smoker in overall good health, with no pre-existing conditions which could impede your ability to heal, you may qualify for the transformative results of an HourGlass Tummy Tuck. It is important that candidates also maintain an active, healthy lifestyle and have a positive, open mindset toward the results of a body contouring procedure.
---
Consultation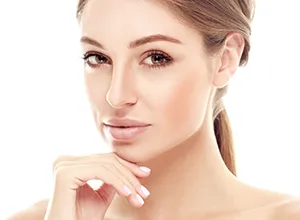 If you have questions about whether an HourGlass Tummy Tuck is the right body contouring procedure for you, we invite you to schedule a complimentary consultation with Dr. Seare. After answering any questions you may have, Dr. Seare will discuss with you your goals for your appearance. He will assess your medical history, medication use, and overall lifestyle. After performing a physical exam, he will work with you to create a treatment plan that will deliver your ideal results. While an HourGlass Tummy Tuck achieves long-term body slimming and contouring, if Dr. Seare believes you are a better candidate for an alternative procedure, he will share his professional opinion with you.
You deserve to have a body you feel proud of. Call Clinique Sculpture to schedule a complimentary procedure and learn more about the impressive transformation you can achieve with a single HourGlass Tummy Tuck.
---
Recovery & Results
Patients who receive Awake Anesthesia will additionally experience an easier recovery than those who choose general anesthesia.
Due to the fact that Dr. Seare uses MicroLipo instead of traditional liposuction to perform an HourGlass Tummy Tuck, your recovery time will be shorter and more comfortable than other tummy tuck procedures. While it will depend on the details of your procedure, patients usually need to take four to six days off work before they feel ready to return to their regular schedules. Patient's flanks, back, and abdomen will be swollen and bruised for the first few weeks after their HourGlass Tummy Tuck.
You will receive a compression garment to wear for the first days of your recovery, which will help improve these conditions. You will also receive instructions regarding surgical drains or any other steps which will be specific to your recovery. Dr. Seare will speak with you about approved medications for relieving any discomfort. Avoid non-steroidal anti-inflammatory medications, such as ibuprofen, at this time.
Patients will notice that their midsection is slimmer immediately following their procedure.
In order to achieve your ideal figure, Dr. Seare will not only remove up to 90% of your fat during your HourGlass Tummy Tuck, he will also artfully sculpt your body into the shape that is right for you and your frame.
As the swelling subsides, patients will see that the contour of their flanks, stomach, and back is more streamlined and curvaceous. The majority of swelling will subside within six months, and your final, slim results will be visible within a year after your HourGlass Tummy Tuck. Due to the fact that the procedure leaves minimal scarring, you will be able to show off your body with confidence! Patients who maintain a healthy diet and lifestyle will extend the longevity of their results and enjoy their hourglass figure for years to come.
---
Cost
The cost of a patient's HourGlass Tummy Tuck will depend on the details of their unique treatment plan, including the extent of work that the patient will need to receive to achieve their ideal results. Once a patient completes their consultation at Clinique Sculpture, they will receive a cost breakdown which reflects the details of their individual surgery.
Dr. Seare wants to make aesthetic surgery as available and affordable as possible for his patients. Clinique Sculpture offers CareCredit financing, MasterCard, AMEX, and Visa. Military, public servants, and other select patients may qualify for discounted pricing and in-office financing.
Are you tired of hiding your body from the world? To learn more about how you can reclaim your figure with an HourGlass Tummy Tuck, call Dr. Seare and his helpful staff at Clinique Sculpture today!
---
*RESULTS MAY VARY