CONSULTATIONS OFFERED AT OUR TWO CONVENIENT LOCATIONS IN SAN DIEGO AND CARLSBAD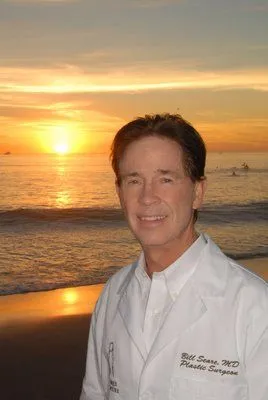 San Diego Board Certified Plastic Surgeon
San Diego Board Certified Orthopedic Surgeon
William J Seare MD is a double board certified Orthopedic and Plastic Surgeon with decades of formal training on top of decades of experience. He has performed over 15,000 lipo cases and a similar number of other plastic cosmetic and aesthetic surgical procedures. Dr. Seare holds over eleven patents, including designs for lipo cannulas, sutures, and operating room aids, and his research has changed, not only the field of Plastic Surgery, but has also greatly impacted diabetes monitoring, in office contraception choices, artificial heart and heart assist access, peritoneal dialysis and wound healing.
All of his cases are performed under "Awake Anesthesia" because it is the safest and allows him to take the time to get the procedure the best it can be. The patients can actually help him get themselves into positions that allow the best and safest results. Awake Anesthesia also allows him to stand or move the patient after surgery to ensure that there are no areas that need further attention.
Dr. Seare has personally designed his offices and adjoining surgical center, located conveniently in Carlsbad, North County San Diego, for safety, convenience, efficiency and cost-effective procedures. He has stocked it with the latest cutting-edge equipment, including power-assisted lipo called "Power X" that rotates the cannula with his patented spatula-tip breaking up the fat before it is gently suctioned getting more fat, much faster and with much less bleeding and bruising. Other high-tech technology platforms take plastic surgery to new levels, include SmartLipo® laser lipolysis , Vaser® ultrasonic lipolysis for " high-def " lipo, Bovie® J-Plasma® for incredible skin tightening and resurfacing, and InMode® BodyTite® and FaceTite® lipolysis and skin tightening technologies allow arm and breast tightening without scars. For recovery, Dr. Seare has a HyperBaric Oxygen Therapy chamber, that like many NFL football players, use it to speed healing and decrease pain, swelling and bruising and take the injured tissues down the pathway of healing rather than scarring.
Patients will meet Dr. Seare personally during a one-hour complimentary consultation.
Using TouchMD® technology, Dr. Seare will plan and show you your current body status. He will then determine your specific areas to be addressed, design your treatment options, and give you a firm quote. A date for your transformation can then be scheduled and Dr. Seare will perform 100% of your procedures. At Clinique Sculpture, Dr. Seare has hand-picked and trained his outgoing staff who will assist you through your Pre-Operative, Operative and Post-Operative adventure. They will answer any questions regarding your transformation and financing options and to assist through the decision-making process and come up with the solution that is right for you.
Dr. Seare strongly recommends when choosing a surgeon for any procedure especially aesthetic and cosmetic surgery, it is of the utmost importance that the patient does in-depth research and is well-educated when making this life-changing decision.
At Clinique Liposculpture, you can be assured that over the 30 years in the industry, Dr. Seare has discovered and mastered the absolute best technologies and customized techniques for the ultimate results.
He is a graduate from University of Utah School of Medicine in both orthopedic and plastic surgery. By choosing orthopedic surgery rather than general surgery for the required four year preliminary residency before his plastic surgery residency, Dr. Seare was highly trained to understand and operate on the body's underlying framework (bone, muscles and tendons) that greatly impact any aesthetic or cosmetic surgery. This training gives Dr. Seare a unique insight into the body's framework when creating and sculpting any plastic or cosmetic surgery.
Dr. Seare pioneered the field of "autologous" fat transfer (your own fat reinjected) which is essentially transplanted into a new location. He continues his research in biomaterials and regenerative stem cell therapies ranging from artificial hearts for heart failure patients to implantable glucose sensors for diabetics, to modulating the body's reaction to re-injected fat and creating permanent facial fillers.
---
Dr. Seare's medical passions continue to be facial rejuvenation therapies, liposculpture, and developing better breast implants that heal the body rather than scar.
*RESULTS MAY VARY