Consultations offered at our two convenient locations in San Diego and Carlsbad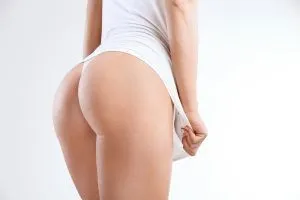 A big butt can be a wonderful thing, that's no lie, but overlarge or oddly shaped buttocks can be the source of some embarrassment.
If your butt is out of proportion with the rest of your body's contours, liposuction of the butt and hips can be an effective solution.
Liposuction is already known to many laypeople as a fat reduction procedure. It is an effective treatment for unwanted fat that adds smooth, youthful contours to various parts of the body, including the rear end. However, liposuction is better understood as a sculpting procedure in which a skilled doctor does not simply remove fat from a target area but also gives care and attention to the surrounding areas. In no other area is this truer than then butt, where it takes both a skilled hand and a trained eye to know what tissue to take away and what to leave behind.
Dr. William J. Seare is one of San Diego's top plastic surgeons and one of this country's leading authorities on liposuction. He was one of the first doctors trained in the art of liposuction in the United States! He and his expert staff at Clinique Sculpture want to help you achieve the look you desire in a safe and supportive environment. Clinique Sculpture offers a unique practice called "awake anesthesia," intended to maximize results and minimize risk.
If you're in the San Diego or Carlsbad, CA, area and you're curious about what you can do to look and feel your best, schedule a liposuction consultation!
About
Dr. Seare understands your frustration. Many patients come to Clinique Sculpture with your very same concerns. There are a lot of misconceptions about the butt, especially when people ask about how liposuction can help. In most cases, the appearance of an overlarge butt is actually an optical illusion created by distortions in the contours in the area surrounding the butt.
In fact, it is the hips and love handles that can mistake people into thinking their butt is too big. Removing fat from the flanks, just above the butt, creates a smooth and natural transition from back to behind.
Working like Michaelangelo, Dr. Seare sculpts the area around the buttocks to create a full and proportionate backside.
In most cases, it is the love handles and lower belly—the "muffin top" area—that contribute to an unflattering shape in your backside, and not the size of the butt itself. A nice, shapely backside is the goal.
Too much fat in the upper butt can distort the buttocks, too, making them flatter and wider. And removing fat from the outer thigh can also better showcase your majestic cheeks. Unsightly rolls and bulges in the area around the butt are what most often trick people into thinking their butts are too big.
In the rare event when fat is directly removed from the butt cheeks, great care must be taken. The professionals at Clinique Sculpture know that "less is more" when it comes to butt lipo. Overdoing it runs the risk of creating loose skin, dimpling in the cheeks, even sagging. Nobody wants sagging!(1)
It takes a surgeon's skill and an artist's eye to what to add and what to take away. You're in good hands with Dr. Seare.
---
Areas Contributing to the Appearance of a "Big Butt"
Hips
Flanks (Love Handles)
Lower Belly (Muffin Top)
Upper Thighs
Rolls and Bulges Around the Butt
Types of Liposuction
Liposuction remains one of the most popular cosmetic surgeries in the world today. It is a surgical procedure that removes fat cells directly from targeted areas of the body by way of an incision point. A variety of specialized devices employ negative pressure to remove fat from these areas.
As time has gone on and technology has improved, liposuction has advanced in a number of exciting ways. Today, it is easier than ever to extract the fat from stubborn areas that don't respond to diet or exercise. Discomfort and recovery time have been dramatically reduced, depending on the type and complexity of your bespoke procedure. You can even get liposuction while fully awake, while standing up, and walk home the same day! (More about Awake Anesthesia Below)
You and Dr. Seare will decide the type of liposuction you get. It will depend upon your body goals, your particular anatomy and any number of factors that you will discuss during your individual consultation.
---
Let's explore your options.
These are some of the cutting edge liposuction techniques available Clinique Sculpture:
Tumescent Liposuction
Tumescent liposuction is today's industry standard.
Tumescent liposuction offers significant advantages over the traditional technique. The wave of new devices that have come onto the market in recent years still incorporate tumescent lipo as part of their safe, targeted procedures. The technique is minimally invasive, compared to the old way of doing things. It has a shorter recovery time, too.
VASER Liposuction
Liposuction has evolved! VASER stands for "vibration amplification of sound energy at resonance." It is a surgical fat-extraction technique that uses ultrasonic vibration to break up stubborn pockets of fat before they are removed using a cannula. A cannula is the grooved, hollow, tube-like suction device that Dr. Seare will use to sculpt a slimmer you.
Micro Lipo
Micro lipo employs a set of very small cannulas to extract fat cells through a series of tiny incisions. It is a precision instrument Dr. Seare uses for detailed sculpting. Micro lipo is ideal for the chin, neck and face, though it can be used on the hips and thighs for targeted work if subtler results are desired.
Smart Lipo
Smart lipo is a newer technique that uses unique laser technology to liquefy difficult fat deposits before they are removed via negative pressure. The process causes less trauma to the surrounding tissue, leading to a quicker recovery. It has the added benefit of stimulating collagen growth in the treated area, making skin become smoother and tighter.(2)
---
Awake Anesthesia
Clinique Sculpture specializes in awake anesthesia, a revolutionary approach to surgery in which the patient is completely awake and aware during the procedure. The patient feels no pain but is still able to move and speak. This helps Dr. Seare to sculpt with greater accuracy and precision as he enlists the help of the patient to move and position themselves. It allows for shorter office visits and quicker recovery. They can even walk home after surgery, if he or she likes!
Check out the Clinique Sculpture blog for more information about awake anesthesia and our other procedures.
---
Candidates
Liposuction is not a weight loss program, nor is it a substitute for diet and exercise. Ideal candidates are non-smokers with a body mass index (BMI) of 30 or less.
If you meet these criteria and feel like your behind could be more shapely, contact Clinique Sculpture and schedule a consultation.
---
Brazillian Butt Lift
Many patients opt for a Brazillian Butt Lift to complement their butt lipo procedure. While Dr. Seare is shaping your perfect behind, you may decide to add on to the aesthetic value and add a little lift to those cheeks!
In a Brazillian Butt lift, fat is transferred from other parts of the body where rolls and bulges may not be desirable.
Fat extraction areas include the thighs, hips, muffin top and love handle area. Celebrities like Kim Kardashian and Jenifer Lopez have made a perky behind a desirable asset. The growing popularity of curves among powerful leading women has contributed to the recent rise in popularity for the procedure.
---
Recovery
It is important that you follow Dr. Seare's instructions so you can ensure a speedy recovery. Fortunately, recent developments and improved technology have dramatically cut down on the recovery time for many liposuction procedures. And, since every patient is unique, the specifics of your recovery may vary.
You may experience swelling and bruising in the treated area. Soreness is common, too, especially for the first few days. You may need to take some time off from work or other responsibilities during the first week.
You may be prescribed medication to control any persistent discomfort during the healing process.
Soreness is common, too, especially for the first few days. You may need to take some time off from work or other responsibilities during the first week. And you may be prescribed medication to control any persistent discomfort during the healing process.
A compression undergarment is often used during recovery to control swelling and to ensure that your skin heals tightly to your form. In some cases, drain tubes may be temporarily inserted into the treated area to draw away fluids in the days immediately following your surgery.
Sometimes a first impression isn't nearly as important as the one you leave behind.
Social media celebs have drawn attention to the posterior like never before. And a misshapen or overlarge backside can make any man or woman self-conscious every time they get up to leave the room.
If you think your butt is too big, it may be an optical illusion created by excess fat deposits in the hips, flanks and thighs. Dr. Seare has an expert eye for these things. He and his team at Clinique Sculpture will sculpt your butt into a booty that turns heads!
References
Smaili, T. (2016, June 9). Liposuction on the hips and buttocks: Could it deliver the idealized deminine silhouette? Retrieved November 11, 2019, from https://www.plasticsurgery.org/news/blog/liposuction-on-the-hips-and-buttocks-could-it-deliver-the-idealized-deminine-silhouette.

Dhami, L. D. (2008). Liposuction. Indian Journal of Plastic Surgery, 41(Suppl), S27–S40. doi: https://www.ncbi.nlm.nih.gov/pmc/articles/PMC2825130/
*RESULTS MAY VARY