Consultations offered at our two convenient locations in San Diego and Carlsbad
As people get older, their bodies do not produce as much collagen as they did in their youth. Collagen is the substance that provides youthful skin its structure, which is the reason your skin seems looser than it did when you were younger.
Reason For Body Procedures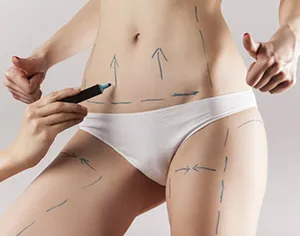 Collagen loss is one of the factors that contribute to the formation lines and wrinkles. Additionally, if you lose a significant amount of weight, you may find that you develop sagging areas of skin, which may make you look and feel older than you actually are. Fortunately, Dr. Seare provides several different skin tightening procedures that he performs using Awake Anesthesia.
Innovative Plastic Surgery
Dr. Seare is a pioneer of a procedure called the circumferential Micro Liposuction surgeries that we call "Around-the-World" of the arms, torso, or thighs. We have found we can get amazing skin tightening of up to 25 percent when we are able to go all or most of the way around your body.
Procedures Offered
Dr. Seare and his team at Clinique Liposculpture are proud to offer the following skin tightening procedures:
To discover which skin tightening procedure is the best option for you, schedule a consultation with Dr. Seare at Clinique Liposculpture.
*RESULTS MAY VARY